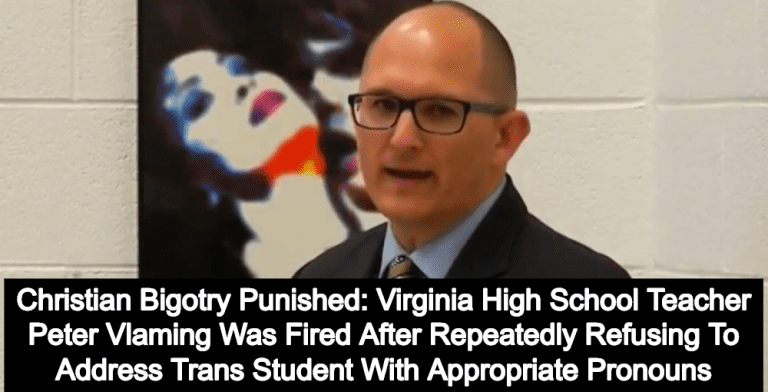 Virginia Teacher Sues School After Being Fired For Bullying Transgender Student
Are we expected to believe that the cruel religious bigot who believes in lies like the virgin birth, the resurrection, heaven and hell, is really worried about "telling a lie." What irony.

According to reports, while teaching at the school, Vlaming repeatedly misgendered a female-to-male transgender student by refusing to use his preferred pronouns. Instead, the cruel bully insisted on referring to the male student with female pronouns.

After repeated warnings, Vlaming was disciplined. and eventually fired. Late last year the West Point School Board voted unanimously to terminate Vlaming. At the time Superintendent Laura Abel said she agreed with the decision. In a statement Abel said:

I won't use male pronouns with a female student that now identifies as a male though I did agree to use the new masculine name but avoid female pronouns. Administration is requiring that I use masculine pronouns in any and every context at school. I was informed that any further instances of using female pronouns would be grounds for termination.

Vlaming tried to defend his cruelty and bigotry by claiming religious reasons prevented him from referring to the student as male.