As I have posted before, the police are no longer serving and protect the people, but have been acting to gather power to themselves.   The police are full of white supremacist and thugs who do not want limits on their ability to break the laws.   They are an armed gang backed up by the authority of the state.   Hugs
Multiple caravans of Trump-supporting motorists cruised through the streets and highways of New York on Sunday, threatening counter-protesters and blocking traffic on major bridges, just two days ahead of the November 3rd election.

The coalition, which included the group "Jews for Trump" and several Long Island-based organizations, convened at various checkpoints throughout Brooklyn, the Bronx, and Staten Island, as part of the nationwide #MAGADrag event.

The NYC convoy was accompanied by an NYPD escort, which did not intervene as participants halted traffic on the Whitestone Bridge to wave pro-Trump and pro-police flags in the roadway. The group continued upstate, later taking over the Mario Cuomo Bridge, according to video posted by Freedom News TV. A separate Trump motorcade blocked the Garden State Parkway in New Jersey, reportedly shutting down express lanes for miles.
Christopher Wright, a 36-year-old Black Trump supporter associated with the Proud Boys, told Gothamist that the New York group was planning to drive into Manhattan until they were advised against it by the NYPD.

"Police reached out to us and said, 'Hey, there's gonna be a lot of Antifa and Black Lives Matter there. We don't recommend you guys go there because we don't know if we have enough backup to fully support you,'"Wright told Gothamist. "So what we did was, we changed the spot at the last moment." 

Despite the lack of confrontation between the opposing groups, NYPD officers cleared the Chelsea block of counter-demonstrators shortly before 1 p.m., pushing attendees to the ground and striking them with batons without provocation. Eleven people were arrested, including two photographers and the leader of a local Black Lives Matter chapter.The NYPD defended the aggressive arrests, stating in a tweet the photographers were not credentialed members of the press.

Some New Yorkers saw evidence of bias in the NYPD's hands-off treatment of the Trump caravan, compared to their violent response to peaceful anti-Trump demonstrators.

Kalin Callaghan, a 36-year-old electrician living in the Rockaways, said she joined a small group of demonstrators in Belle Harbor to protest the pro-Trump convoy as it passed. When she pointed out that many of their licenses plates had been illegally covered, one of the uniformed NYPD officers responded that he was "not here for enforcement," she told Gothamist.

As Callaghan attempted to take a photo of a truck with an obscured plate, the driver rammed into her, she said. Police immediately rushed her and threw her to the ground, she told Gothamist, but "said and did nothing about the driver who'd just drove into me."

"It seemed they were selectively enforcing the law," she added. "I'm fine, it was a little bit shocking. They clearly wanted to intimidate and scare us."

Among the caravan's vehicles was a white SUV, adorned by Trump flags, with a fake body strapped to the hood made to look like an antifascist protester.

 
Most license plates obstructed at #MAGAdrag. Asked Ofc Lambros if that was legal. He replied "we're not here for enforcement" In a crosswalk at a red light I took a pic. Truck drove into me. I was then thrown aside by two cops who threatened arrest. @NYPD100Pct why is this okay?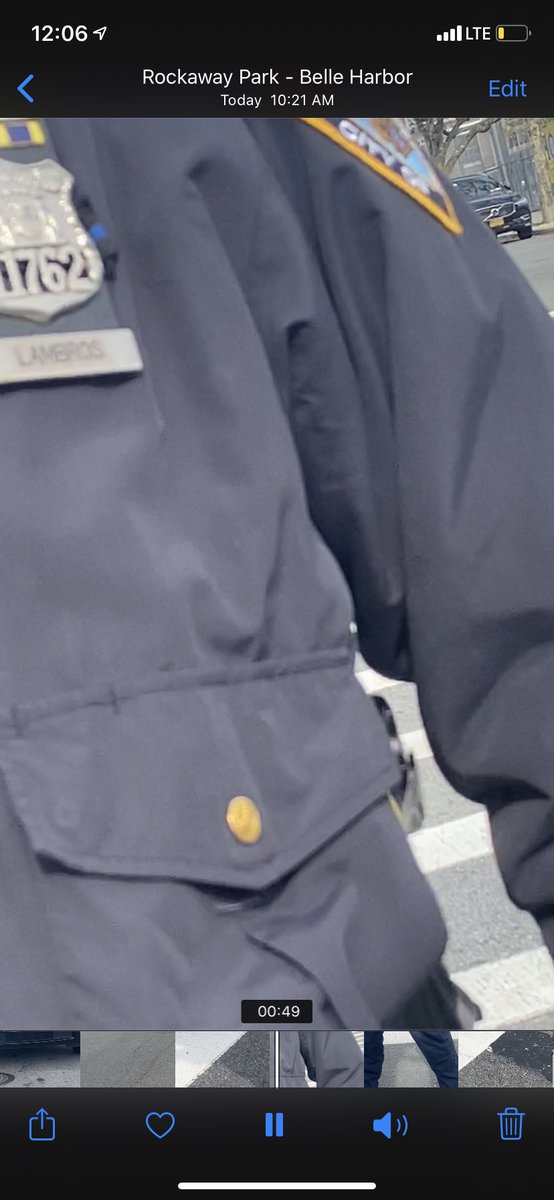 So the cops weren't there to enforce license plate obstruction or attempted vehicular assault. But threatened arrest because I was in a crosswalk at a red light. This is what fascism look like.
#NYCMAGAdrag snowflakes hiding behind tape, cops and obnoxiously loud pickup trucks.
Here's another one for you marvelous sleuths out there 🥰
Originally tweeted by By the NYC shore🛠⚡️🌆🌹 (@KalinJane) on November 1, 2020.
At another point on Sunday, motorists with obscured license plates swarmed a driver who flipped them off on the Belt Parkway, nearly running her off the road, according to a witness.

The traveling demonstrations came two days after a group of motorists with Trump 2020 flags surrounded a Biden campaign bus, allegedly attempting to block its path, and forcing the Democratic nominee to cancel two events. The FBI is now investigating the drivers, who President Trump defended as "patriots."

Mayor Bill de Blasio said on Monday that he hadn't seen evidence of motorists obscuring their license plates, adding it was "unacceptable" if it happened. A spokesperson for the NYPD said they had no information about protest-related enforcement on Sunday, aside from the arrests of counter-demonstrators in Chelsea.

Wright, the Trump supporter, said he agreed that NYPD officers were "more aggressive" toward left-wing activists.

"They call them pigs, pigs in a blanket, fry em' like bacon. With our side, we have 'Back the Blue' flags, we thank them for their service, we give them all kinds of credit," he said. "If I was a police officer, put me in their shoes. If I got this from the leftist groups all the time, I couldn't say I'd be able to go to work the next day and I'm gonna be fighting for you with my best effort."

The NYPD faced scrutiny for its disparate treatment of left- and right-wing protesters during a wave of Blue Lives Matter demonstrations this summer. The city's largest police union, the Police Benevolent Association, has since endorsed Trump for president; NYPD Commissioner Dermot Shea is a registered Republican.

Last week, the NYPD suspended an officer who was seen on video declaring "Trump 2020" over a police loudspeaker.

Mayor de Blasio has brushed aside concerns that the police department might show preferential treatment to Trump supporters in the event of election-related unrest.

"The NYPD's job is to make sure that all of that is handled peacefully and honored," de Blasio said earlier this month. "Unquestionably they're up to that job and they believe in that job, and my job is to make sure that happens."

A spokesperson for the Mayor's Office did not immediately respond to a request for comment.