https://www.opb.org/article/2020/12/21/oregon-legislature-special-session-protests/
A special legislative session at the Oregon Capitol got off to a chaotic start on Monday with far-right protesters storming the statehouse while calling on lawmakers and the governor to reopen the state economy and end the restrictions aimed at curbing the coronavirus.

The Oregon State Police declared an unlawful assembly as a growing number of protesters pushed their way through the Capitol doors chanting, "let us in" and "arrest Kate Brown." Police officers donned gas masks as they squared off with protesters, some of whom carried firearms and bear spray, and many of whom were not wearing masks. Among the protesters were members of Patriot Prayer, a far-right group based in Vancouver, Washington, that that attracts white supremacists and has engaged in violence.

Oregon State Police reported that officers were sprayed with "some kind of chemical agent" twice while trying to repel people from the building. Officers had arrested three people as of early afternoon, including a 41-year-old man who state police said sprayed bear mace at police.

Those arrests did not dissuade demonstrators, some of whom shattered glass doors into the Capitol while demanding to be let inside. Some members of the crowd harassed or assaulted journalists reporting on the event.

The Legislature is meeting in a one-day special session to consider five bills related to wildfire and COVID-19, including a proposal that would extend the state's eviction moratorium by six months and offer financial help to landlords.

But even how to meet has been a topic of controversy. Some lawmakers wanted a remote session. Others wanted to meet in person without abiding by the COVID-19 restrictions Gov. Kate Brown has implemented.

Legislators on the floor at the State Capitol Monday during a special session on Dec. 21, 2020.

Dirk VanderHart / OPB

While meeting in the Capitol, lawmakers are being asked to follow strict regulations. That includes limiting their numbers in elevators, walking in only one direction down some hallways and wearing face coverings while on the floor.

That last rule led to tension in the Senate Monday morning, when state Sen. Dallas Heard, R-Roseburg, objected to statewide mask requirements. Heard accused his colleagues of being involved in a "campaign against the people and the children of God." Heard expressed anger at the mask mandate in the state Capitol, ripped his mask off and left the floor.

"If you had not done such great evil to my people and had simply asked me to wear my mask, I would have," he said. "But you commanded it, and therefore I declare my right to protests against your false authority and remove my mask."

Lawmakers in a special committee breezed through the bills teed up for the session in a hearing that began Monday morning, passing out all but one — a proposal to grant health care providers liability protection from some coronavirus-related lawsuits.

The House and Senate expected to convene Monday afternoon to take up the bills.

 
Protesters demanding to be allowed into the Capitol for the session are squaring off w dozens of Salem officers and state police. Now chanting "arrest Kate Brown." #orleg #orpol
This is a protest organized by Patriot Prayer, a right-wing group that frequently demonstrates in the Portland area.
This has been declared unlawful. Building alarms are sounding for some reason. #orleg
Officers putting gas masks on. Didn't expect this today.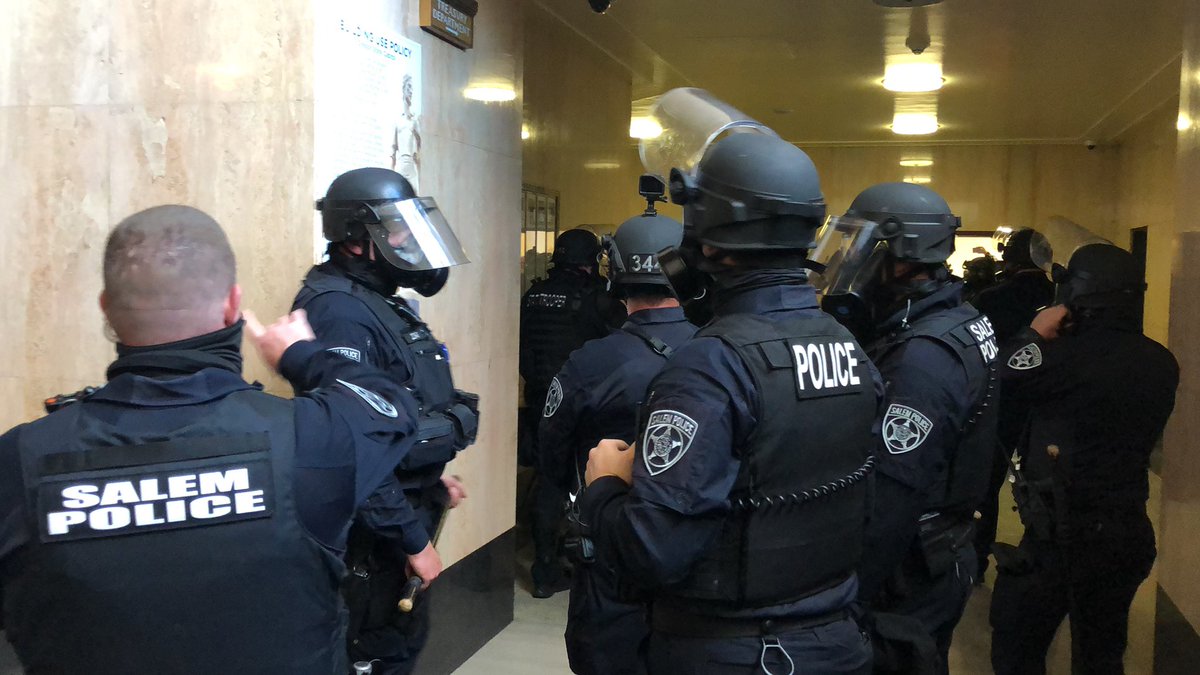 This maybe does without saying but: not seeing a lot of masks on the people screaming in these officers' faces.
Apparently some protests are demanding they be arrested rather than leave the small entryway where they have gained access. Others seem to have left. #orleg
This guy was arrested. Big knot on his forehead but I don't know what from. Screaming "I can't breathe" again and again. #orleg
Another arrest, far more peaceful. All protesters are out of the building. #orleg
People demanding to be let into the Capitol are now vandalizing the building. Lawmakers are in recess indoors, as bills are prepared for floor votes. #orleg
Originally tweeted by Dirk VanderHart (@dirquez) on December 21, 2020.