WTF !!!!!  Remember this is the guy fighting to force people to go to vote, limited the number of voting places making them more crowed, and fought hard to stop mail in balloting and and any extension of the ballet time.  Hugs
Wearing PPE, Wisconsin Speaker Claims It's 'Incredibly Safe To Go Out' To Vote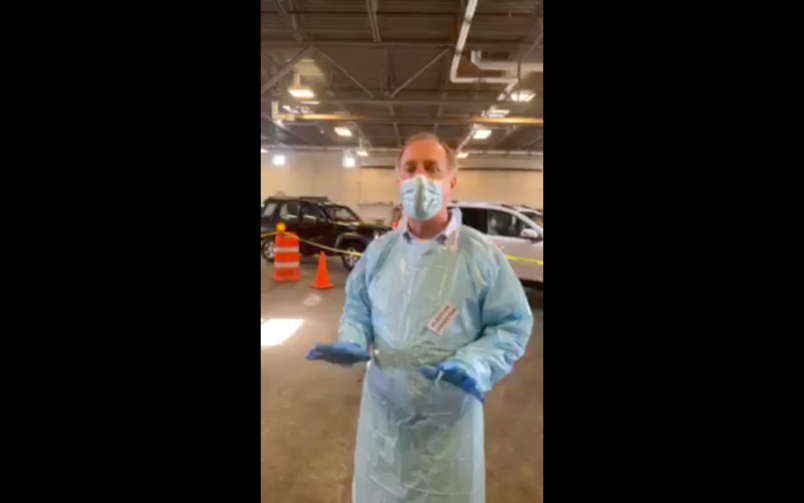 Clad in gloves, a mask and full-length gown, Wisconsin Speaker Robin Vos assured voters that it is "incredibly safe to go out" on Election Day despite the COVID-19 pandemic.

Vos is one of the main reasons the in-person election went ahead Tuesday, as he and his fellow Republicans fought both delaying the election and Democrats' attempts to provide voters with more mail-in options.

"Actually there is less exposure here than you would get if you went to the grocery store or Walmart," Vos added in a video captured by the local Journal Times at a polling place in Burlington that he volunteered to help staff. Polling sites across the state have been shuttered amid a drastic scarcity of elections workers.

The city of Milwaukee, for example, offered five polling places, down from its usual 180, leading to long lines and voters forced into close contact with each other.
The state has been embroiled in last-minute legislative and legal chaos as Democrats, headed by Evers who flip-flopped on the issue, sought to delay the in-person primary like every other state did that had a contest in April.

Republicans stymied all of those efforts. A critical state Supreme Court race will also be decided, and low turnout favors the GOP candidate, incumbent Dan Kelly.
More at the link above, including the very partisan Republican votes of the State Supreme Court.  Hugs